Forging Sisterhood in the Frozen North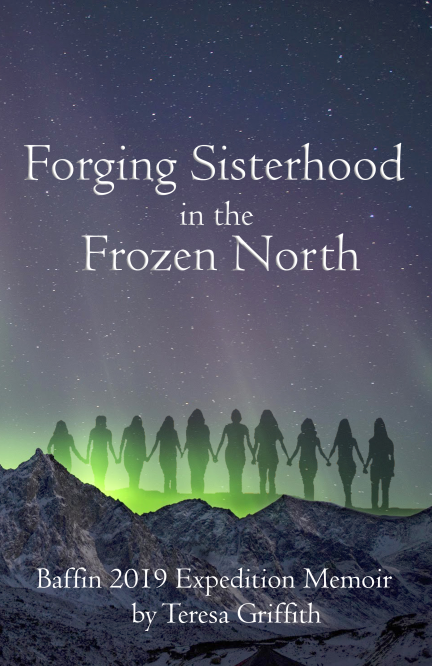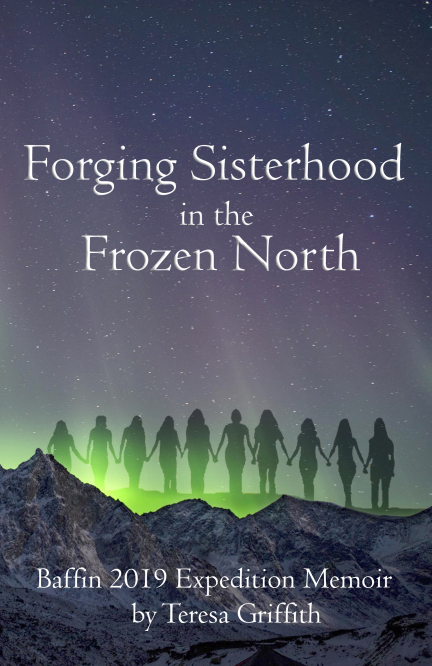 In 2019, I was pleased and honoured to join a group of women trekking across Baffin Island to raise money for ill and injured soldiers, veterans and their families. Supports for military families are lacking and we raised a million dollars for True Patriot Love Foundation which funds innovative and valuable programs which help a great deal.
After the trip, I wrote a book about my experiences. Photography and cover design is by Shilo Adamson, a very talented military photographer.
---
Tiny Books on Big Ideas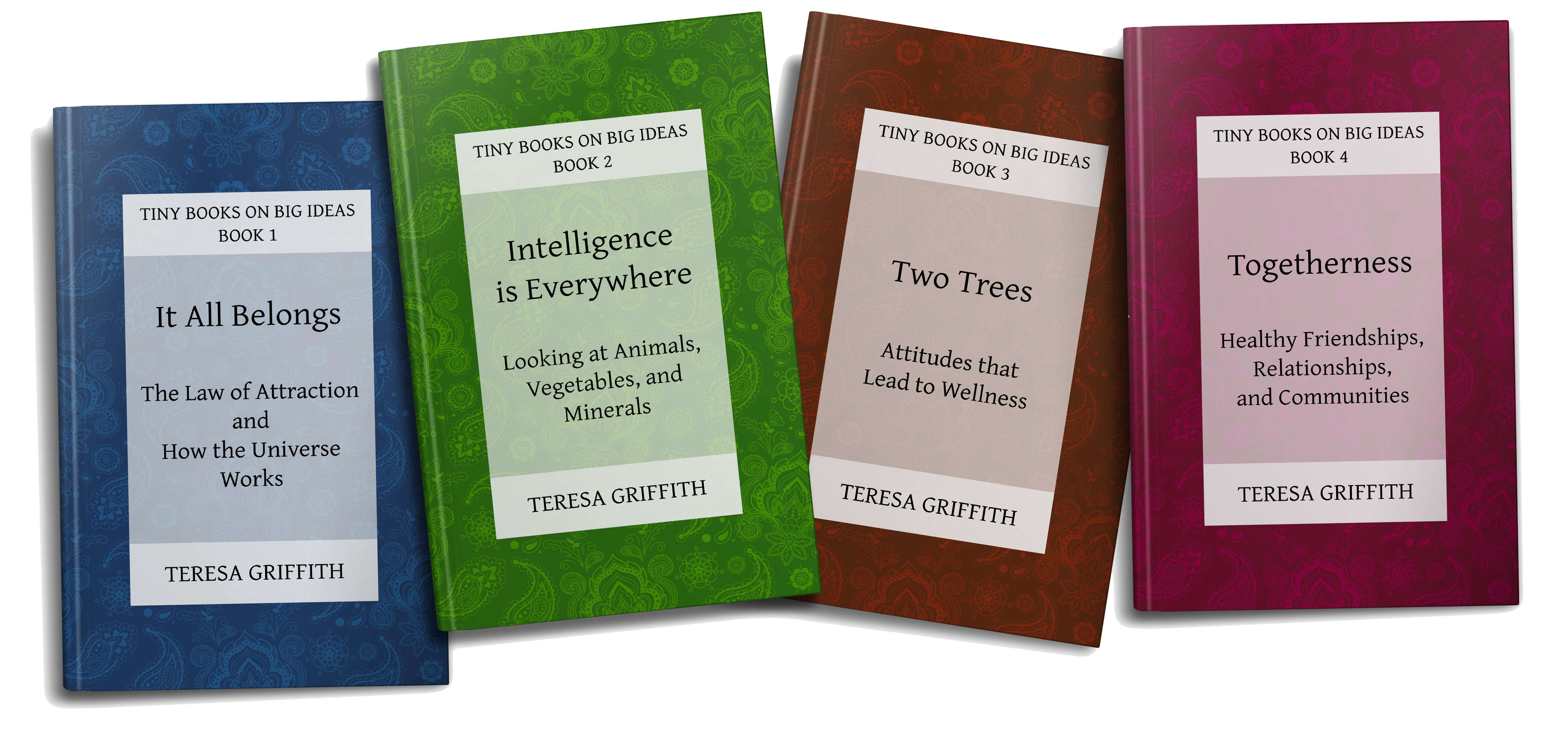 Sometimes, I wake up with a really big idea, or a radically new way of looking at something. New perspectives make all the difference in personal growth! So, I collected these big ideas together and put them all into 4 themed books.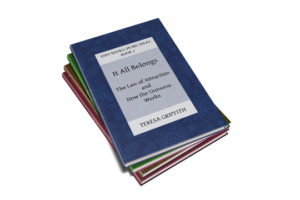 The first is about the nature of the universe (and the law of attraction).
The second is an exploration of intelligence in the animals (and plants, and such) around me. I tell lots of stories about cats, horses and alpacas in this book.
The third book is all about which attitudes are harmful and which ones lead to wellness.
The fourth book is all my very BIGGEST ideas about relationships, friendships and how we can make our communities more loving.
I'm sure that one or more of these tiny books will call to you! You can also get all 4 in one volume.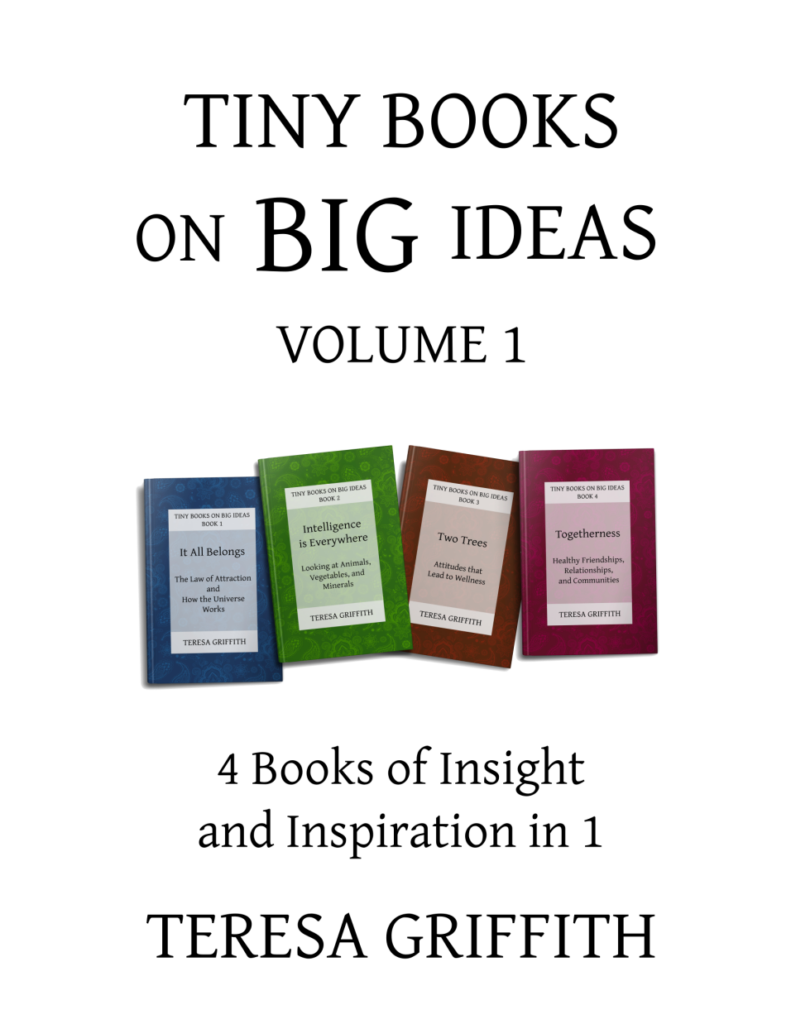 ---
York Boat Captain – 18 Life-Changing Days on the Peace River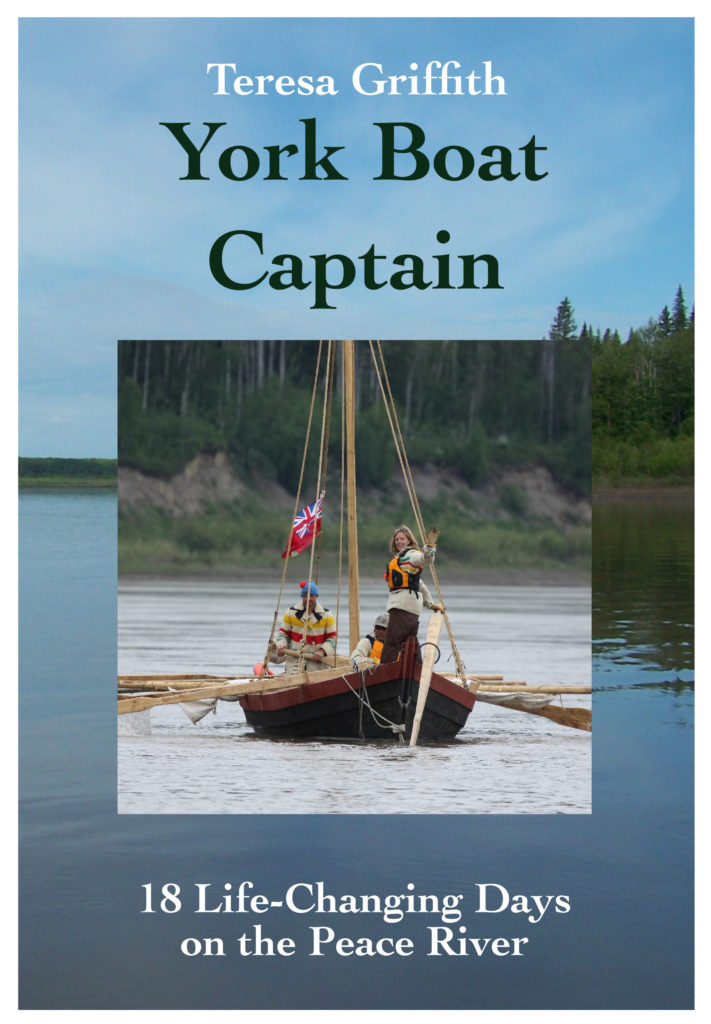 "This book is truly an enthralling, captivating, informative and many times funny, darn good read — well worth your time, whether a river or boat lover." – Beth Wilkins, Peace River Museum, Archives and Mackenzie Centre
For 18 days, we lived like Yorkmen. We rowed and sailed our way down the ribbon of water, having stepped back in time and into the moccasins of 19th-century fur traders.
I was in the right place at the right time. I was chosen to lead a project to build a York boat and take it on a historical reenactment on one of Canada's largest rivers. I found an intrepid crew to row the oars and camp along the river each night. We wore costumes and ate simple food — oatmeal for breakfast, dried meat for lunch and soup for supper. I was their captain. Along the way, we met many interesting people and had unforgettable experiences. This book takes you through the boat building, finding a crew, to the highlights of the trip itself.
If you like history, adventure stories — or boats! — you'll love York Boat Captain.
---
Love Your Skeletons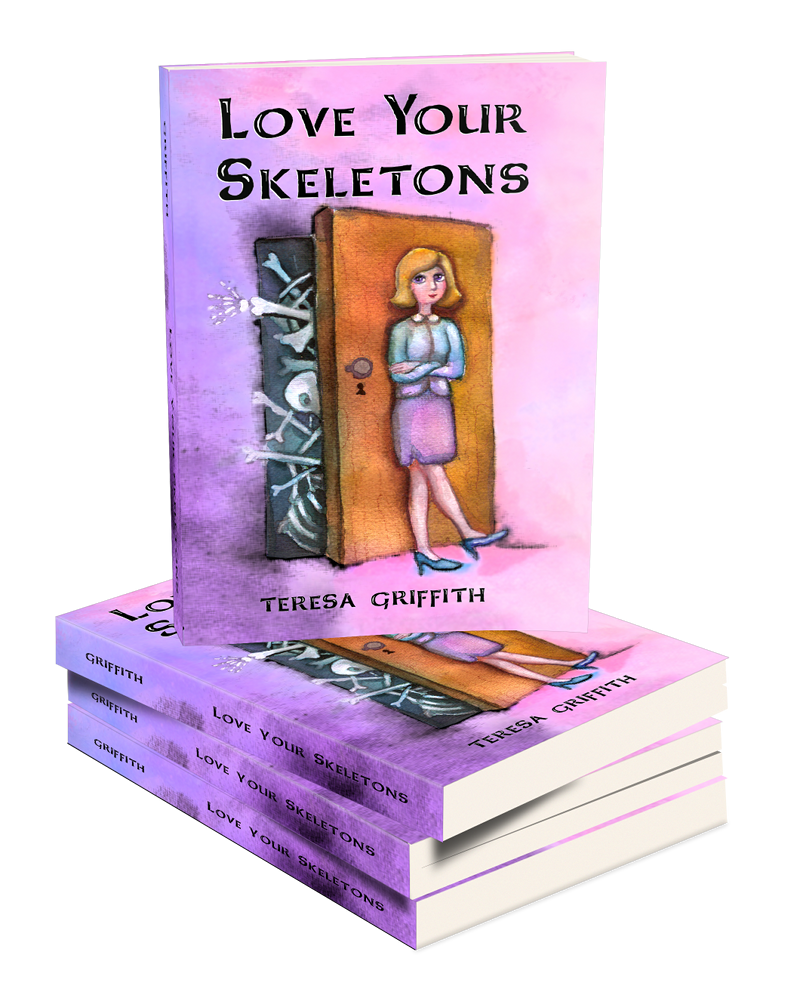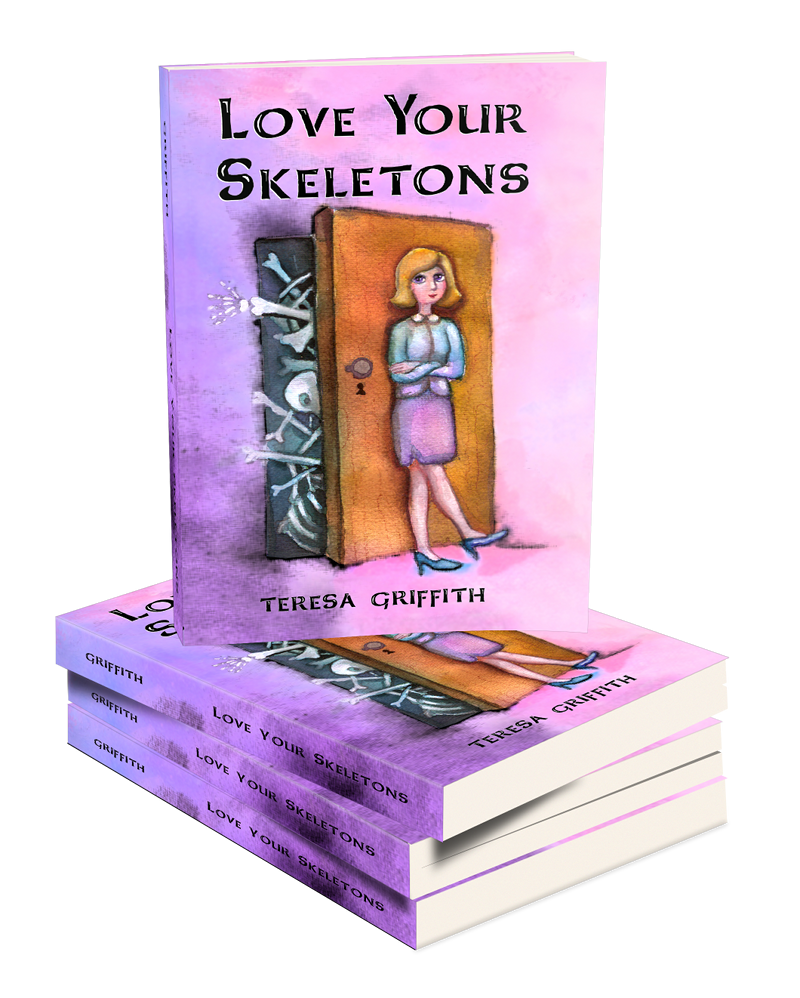 "A very honest and helpful journey of self-help by analyzing ones heart to overcome trials, pain and suffering to come out with a new sense of peace, love and to conquering ones inner most skeletons and moving forward to enjoy the journey of life without the baggage." – Alex Cabral
My first book was written to help myself and others discover ways to overcome shameful or embarrassing things from their past. We all have things from our past we'd rather forget and definitely don't want to talk about. This book helps you face those things and develop self-compassion for what you've been through.
I designed the book to be read one chapter a day, to help you gain real insight and make good progress in one month.
For sample chapters, info on the cover artist and more, visit: Loveyourskeletons.com
---
Peace River Paddling Guide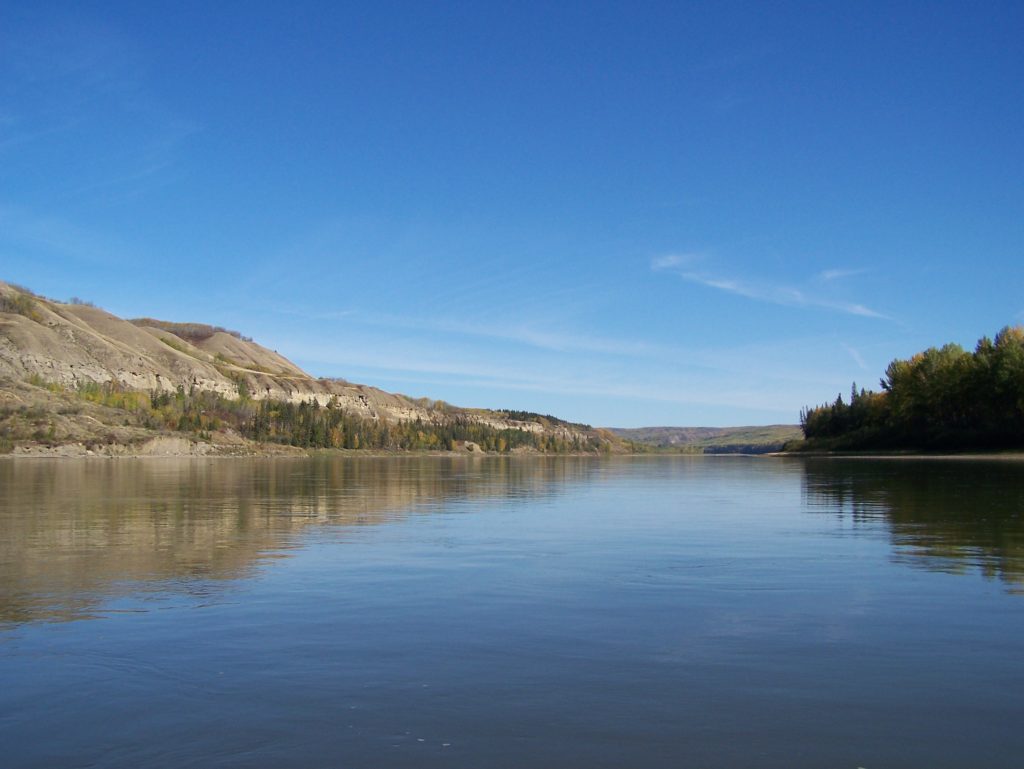 I paddled most of the Peace River in northern Alberta and wrote a paddling guide all about it. I suggest camp sites, good places to access the river, neat rock-hounding spots, and even a ghost town (village) to visit! It's got all the info you need to paddle this beautiful, easy, class 1 river (no rapids).
---
You may have noticed…
I am a 100% self-published author! I do all my own editing, book layout, and cover design. All my books are published through lulu.com, a print-on-demand publishing service. I love publishing this way, because it gives me full creative license to make my books. I also think that print-on-demand is a great way to save trees! Click here to go to my store on lulu.com.